The Gretch Filtetron. The Gretsch line of guitars were well received in the 1950's but was soon eclipsed by the likes of Gibson and Fender. Since then it has always been a bit of an obscure and rare bird despite enjoying the attention of the likes of Chet Atkins, Brian Setzer, and even the Beatels. Recently Fender bought the company and is trying to return it to it's 50's glory.




A little while back I was sent the neck pickup from a 1998 Gretsch. It had a dead coil and was only reading 4K Ohms. I rebuilt it to the vintage 1950s specs.




First thing we gotta do is pull the cover off. It's not so different that a Gibson PAF construction wise. But it's much smaller. This 1998 version also used a huge ceramic magnet. In the 50's this would have been an Alnico magnet.



Perhaps one of the most unusual aspects of Gretsch pickup construction is their use of these top plates. The top plate uses the pole screws to hold the bobbins together.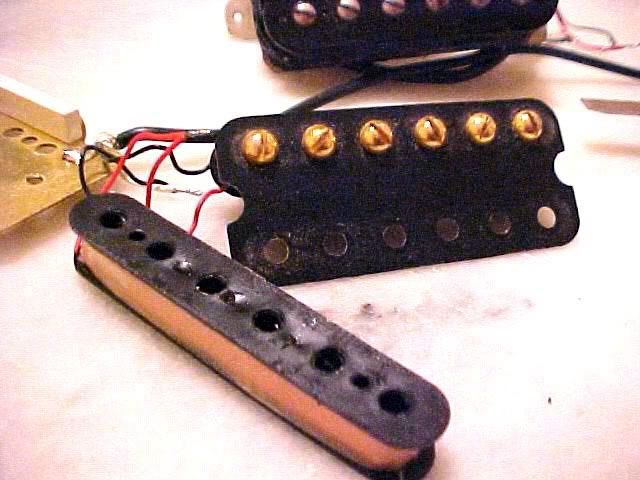 The original Filter trons were very low output pickups. Because of the small bobbins about 4K ohms was all they could reach with 42GA wire. In the 90's they started using 45GA wire and made pickups that read about 8K ohms.




When it comes to fixing a dead pickup there's nothing like a good set of dikes and an Exacto Blade.




Once it is loaded up with the 42ga wire and taped it's time to solder the connections back.




Ray Butts invented this thing. He and Chet Atkins worked together on the design for the Filter-Tron. It seems that Ray came up with his design without any prior information of Seth Lovers work at Gibson. His claim was that he knew about hum canceling coils because of his work making transformers for his line of amps. So it's possible the Ray invented the humbucker.





Once it's all back to normal it gets a test ride in "The Booger". My pickup tester guitar.




Then it goes back to Cali to the tech that sent it to me so it can be returned to the guitar it came from.